Home
›
The Game
›
Forum Roleplay Games
"Welcome to the
URealms Forums!
Please make sure to
read the rules
before posting!
Your posting ability may be restricted for the first 24 hours!"
Ancient Creators (God RP)
Welcome everyone to this crazy idea of a few god rps. Yes, that's right, a few god rps, hear me out. This rp chains will follow a set of gods/other titles for god-like creators as you create the universe and a world at the center of it. This will take a lot from real-life mythology, but taking a lot from this one idea from Greek mythology. Where there was one set of creators 'gods' but the title of rules will change as they have children or creatures form from them. With that introduction out of the way time for the main mechanics and the godly field you control.
Mechanics:
Timeline:
- Etherial Start: All Ancients will awaken in a strange blank universe of nothingness. At the start of everything, the universe is changed from the Ancients' very existence. Time, space, gravity, and all other baseline things start here. All Ancients have just become a thing, you all are just learning your powers and get to communicate with one another at this time.
- The Great Creation: All Ancient can start creating whatever they like in this universe. The Universe is your playground, making realms or some sort of eldritch creatures can be made here. But conflicts can also be created here.
- The Next Era: The final time you may control the Ancients, this is the time of passing the torch. Either willing or by force, the next generation of Creators start here. Each Ancient can willing make beings of creation, or they may spawn from you. Eiter way the new God fields are based on what your Ancients do.

(last second note, Creating the Next-generation can be weird and complicated. You can just make them from nothing, they can be made from parts or form from you. You can get dirty with a fellow Ancients, maybe make your own bride. It's up to you, just some ideas.)

Creation:
- Fairly basic, you can create anything based on your roll. Now as Ancients whatever you make will be big and important. Now based on your fields certain creations will be easier than others. If you can make an argument to convince me it fits, the rolls will be easier to make.

Creativity:
- Just something to think about, don't think you have to do things based on our world or other myths. There might be a need for an ancient to create a realm or world for others to inhabit. But other realms, worlds, dimensions, or other horrors can be made. This might be chaotic, but since it's the start it's okay

Map/Lore:
- During this stage, there won't be a physical map. It's more of building lore in the world and creating things for later. But world/map making will be a thing in other rp.


Ancient Domain:
(Basically god of ____)
Emotions:
Choas:
Darkness/Void:
Light/Aether:
Magic:
Time:
Space:
Gravity:
World/Plants/Earth (basically the center of the Universe)
Death/Destruction: (Can destroy others' work and create things to destroy others' work)
Life/Creation: (Basically general everything)
(If needed I might make an NPC Ancient to be/make the world or a realm. But these Domains are vague enough for someone to create something.)
As the first RP, there isn't too much detail. It's meant to be simple and a starter for the other rp's to grow from. It won't last too long unless y'all somehow stretch this section. With that said, you all may start with Creator-Creation. Welcome, New Creator.
CC:
Name:
Gender: (If you care, y'all are strange beings who came from nothing after all)
Domain: (pick one above, If you have any questions just ask)
Appearance:
Personality: (If you wish to sort of play it out during the Etherial Start, you can)
***********************************************************************************
Lore doc:
https://docs.google.com/document/d/1ju-Kz6opu2JrMvRS7ENaubMRJFOThCZsISxJsSTBInA/edit?usp=sharing
Current Players Ancients:
--
@friskyBrisky
,
Name: Tian Thrazga
Gender: Male (at least pronoun wise)
Domain: Life/Creation
Appearance: A human body with a silk white loin cloth that hugs one of his legs. His head, however, is that of a Deer Head, covered in fur with massive Antlers that connect into a circular cage.
Personality: Tian is a god of few words but of many great actions. He is self-righteous and determined whenever he sees (what he considers) injustice. He also values strength and wisdom, viewing inaction as unacceptable.

--
@bl1ndn3rd ,

Name: Bezo, Divine Counselor of Madness (see this is foreshadowing. Gotta have my Dark Souls-esc Boss Name)
Gender: None, uses any pronouns as the situation calls for
Domain: MAGIC
Appearance:
Personality: We'll See.
--
@Jj_TeRroR_jJ ,

Name: Liana, The Nature Mother.
Gender: Primarily Female, however, can take on other forms.
Domain: Earth/Plants/World(s?)
Appearance: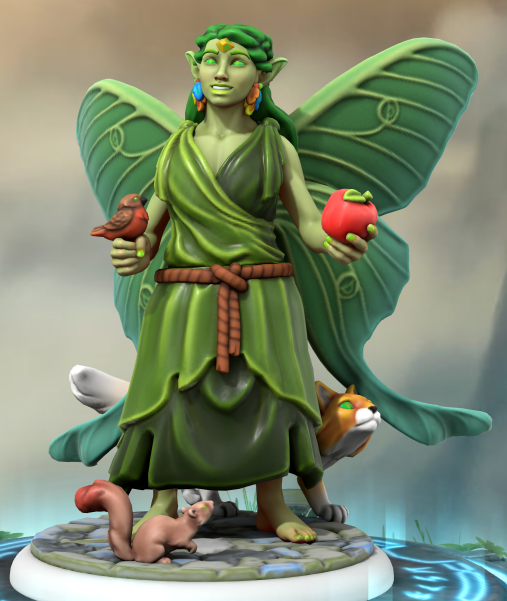 Her appearance may change with the seasons if they are eventually made.
Personality: Caring and considerate, Liana usually holds a maternal-like instinct over any of her creations as well as gradually with her brethren. However, this also can leave cautious of those who have ill will. If any do significant harm to her creations, however, she isn't afraid to show the wrath which nature holds.
Any living being of her creation will always have the same emerald eyes as she does.
--
@WritingWyvern , (NPC)

Name: Ika Tidma
Gender: Use He, but doesn't care
Domain: Time
Appearance: Ika wears light gray robes that cover up all of his body. Covering what he really looks like, while the robe has eye symbols in a golden outline all around the robe. strange interconnecting lines between four eyes, one on the back of his hood, two on his shoulders, and a final one on the front of his hood. Finally on the chest is an hourglass in a golden circle. Ika is never wanting to show what he looks like underneath
Personality: Right now he is watching quietly and waiting to see what happens.

-
@Firelie&nbsp
; ,
NAME: Ah'lloigshogg
Gender: None
Domain: Chaos
Appearance: Chaos has no physical form, and thus, has no appearance. Ah'lloigshogg exists only in the minds of living creatures, and is only able to exert its power through them.
Personality: rolling with it, being a newborn technically and all.

-
@Kingedyou ,

Name: Suffering
Gender: none, it/it's pronouns
Domain: Death/Destruction
Appearance: Suffering has no real physical form, instead it exists as a massive black cloud like a dark plume of smoke. The cloud is impossible to see through however once inside the cloud it's completely transparent. Suffering can communicate with any being touching or enveloped by it.
Personality: Suffering is a cosmic manipulator, it wishes only to see things die and be destroyed. Therefore, it spends its time enveloping beings and trying to persuade them to destroy. Suffering lives to create it's namesake, suffering.

***********************************************************************************